Tinsa statistics for July have revealed a 2.8% year-on-year increase in prices for July 2015 on the Spanish Mediterranean Coast. The company's indexed data recorded a rise from 1320 in 2014 to 1356 in 2015 and the increase breaks a run of seven consecutive years of price decreases recorded for July, the most extreme of which was as recent as July 2013 with a decrease of 12.1% (Graph 1).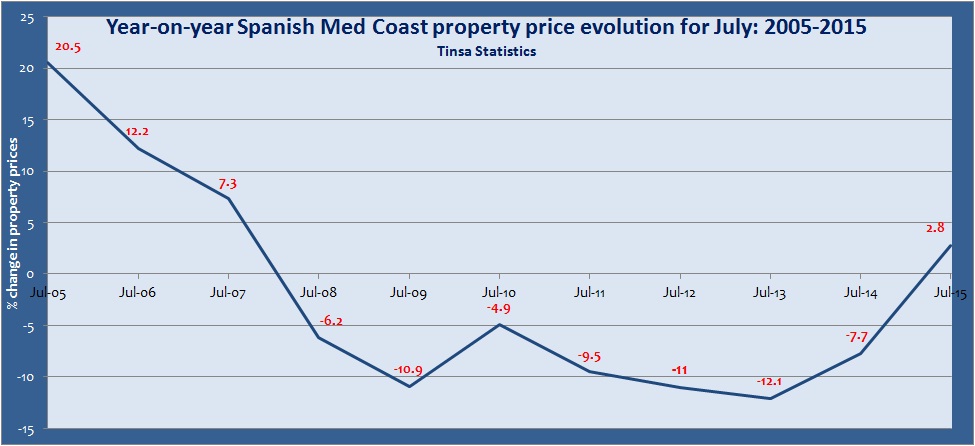 Graph 1: Year-on-year change in property prices on the Spanish Mediterranean Coast
Tinsa splits Spain into 5 geographical areas for its IMIE price reports and of the 5, the Mediterranean Coast was the only one which showed a price rise for July. Prices in the Capitals & Large Cities and Other Municipalities groupings both fell by 1.8% yoy while the decrease was 4% in Metropolitan Areas and 4.8% in the Balearic and Canary Islands.
The national average was also negative with prices having fallen by 2% since last July. The results highlight the improvement in the property market on the Spanish coasts as unsold new-build stock falls, foreign purchasers multiply and the Spanish economy and national market comes back to life.
Idealista statistics show resale price rise
The month of July saw Spanish resale property prices increase by 0.4% in Spain to an average of €1,586/m2 according to statistics gathered by Idealista, Spain's largest property portal. The year-on-year change is negative but stands at just -1.2% showing that prices are now relatively stable.
Tourist regions leading the way
Spain's tourist regions have saw positive results in the Idealista data and the Canary Islands recorded the strongest increase for any region during July at 1.9%. In Andalusia prices were up 0.9% while the increase for the Balearics and the Valencian Community stood at 0.3% with prices stable in Catalunya (0.0%) and in Murcia (-0.1%).
When looking at Idealista's provincial data it is even clearer that prices are now on the increase in the principal second home market destinations and the two major costas registered strong increases with prices rising 0.9% in Alicante province (Costa Blanca)  and 1.1% in Malaga province (Costa del Sol).
Main image: Artist's impression of the Sena II property development on the Costa Blanca, Valencian Community ©Patrimi Resorts S.L.