Your Spanish Dream
There is something wonderfully charming and amazing about the Spanish coastline, which lures people into believing that they could stay here for the rest of their lives! However, this 3,000-mile reason is just a small part of it!




Other resons include the delightful climate, charm of the Spanish people, character of the country and the variety in lifestyle. The best part is that you need not confine your desire to a mere dream. It is possible to award reality to it, for there is sufficient space in Spain to accommodate a large populace!
Thus, whether you seek a countryside villa, an apartment along the coastline, or property within city limits, you are sure to find something absolutely to your liking in Spain.
This informative guide "Are you Buying a property in Spain ? A simple explanation for dummies! " aims to help you comprehend the process of purchasing property in Spain and the complications associated with it. In fact, the purchasing process can go beyond days and weeks. Therefore, when you are actively into the process of purchasing property, please request counsel from an experienced, real-estate lawyer.
Area of Choice in Spain
Well, here are the pros and cons of residing in various regions in Spain according our guide "Are you Buying a property in Spain ? A simple explanation for dummies! " 
You will find a highly affordable property here, since the cost of living is quite low.
However, the climate promises dry and hot summers, along with not so mild winters.
Southern Regions and Islands
Tourists love to come here.
You should obtain healthy profits by renting out your property.
However, properties here are rather expensive, specifically in the Balearic Islands.
Málaga is the well known Costa del Sol.
It comprises of Almeria, Catalonia (Costa Brava), Murcia (Costa Calida), Alicante (Costa Blanca) and Valencia (Costa Azahar).
The climate is mild and there are plenty of splendid beaches.
Many expat communities reside in the East Coast.
However, the prices of properties range from low to medium in the southeast, while they go from medium to high in the northeast.
Buying a property in Spain for dummies tips!
Other points to consider will help you the area:
Permanent Residence
If you wish to hobnob with other expats, seek exclusive communities. Then again, give serious thought to the cost of living in your selected area, and the tax rates prevailing there. Your chosen property should match your goals, including possessing healthy local infrastructure, amenities (shops, service providers, etc) and easy accessibility.
Investment/Rental Income
A large city or coastal region is ideal for attracting tourists in large numbers. As time goes on, your property will rise in value. In turn, you will make good profits. Just ensure that your house-for-rent possesses all the requisite facilities and amenities. It should have easy access to transport, local shops, etc.
Holiday Home
Villas and apartments are most suitable, especially during peak season. However, the climate must prove favorable. Furthermore, holidaymakers must have rapid access to the local airport. In case, they arrive during the off-season, ensure that there are sufficient local attractions to keep them interested.
In case, you are still low on confidence, rent a property and gain a 'feel' of the area prior to an actual property purchase. Then again, it is imperative to give due consideration to the following aspects related to your long-term investment.
Discover the appreciation capabilities of your property.
Overly expensive areas cannot promise higher pricing in future.
Inexpensive areas displaying poor local infrastructure cannot promise increase in pricing of real estate.
If expensive habitats surround certain areas, they will definitely grow.
Be realistic about future earnings.
The value of your property increases in alignment with improvement in transportation.
If you have school going children in the family, look for areas with good schools, play areas, facilities on hand for families and neighborhoods with children.



Types of Properties in Spain
1. Rural Properties
It must be obvious that the Spanish Land Registry sets aside such a property for agricultural usage only. It grants it the label of 'rural'. Therefore, find out from both, the regional and municipal authorities, whether they have zoned this particular property for residential use too, or not.
2. Urbanized Dwellings
You will find an urban property in a development outside a village or town. There are clusters of homes, built in accordance with the controlling community's standards.
3. Resorts
They are as integrated as urbanized properties are, albeit possessing communal areas too. The community takes charge of the gardens, swimming pools, tennis courts, etc. However, managing and maintaining everything comes at a high price.
4. Coastal Properties
In 1998, the Coastal Law ('ley de costas 1988') came into effect, in order to stop overbuilding along the coast. The law introduced restrictions applicable to both, the private ownership zone, as well as to the public domain area. They sufficed to permit the public access to the coast, but prevent excessive urbanization and soil erosion. Therefore, if you intend to purchase a coastal property, you will have to find out from the Coastal Demarcation Office in that particular region, if your property falls under the purview of the Coastal Law or not. If it is not, the Office will issue you a certificate for the same.
How to Purchase Different Properties
Existing Properties (Sale)
Does the property belong to an individual owner or a company? If so, you need to make a deal about purchasing it for a specific amount of money. You will have to decide the period for making the payment. Finally, check out all details relating to this estate.
Re-possessed Properties (Sale)
You may find some amazing re-possessed properties owned by banks. They are on display on major banking websites. Find them through the Google search engine. You should be able to get a great bargain, as well as financial help for taking the property off the bank's hands!
Off Plan (New) Properties
The property is still under construction, or newly built. If the design appeals to you, purchase it. With regard to payment, you will begin with a small deposit, and follow it up with installment payments. Pay the balance, when the property is ready for moving in.
Now, it may take anywhere between 12 and 18 months for the sale to be completed to satisfaction. In the meanwhile, request a lawyer with knowledge about property law, to check if the builder had obtained the appropriate permits and correct building licenses. Similarly, is there an insurance certificate or bank guarantee in place for protecting your deposit, as well as installment payments?
Plot-and-Build Properties
You have a vision of what your property should look like! Well, then, purchase land and build upon it with the aid of experienced builders and architects. Just contact us for help with legal services connected with purchasing, planning and construction jobs.
Do you need us? Yes, you do, for there are several important differences between an off plan property and a plot-and-build one! Whichever one you opt for, you need advice on the legal issues involved. You do not want to end up as the promoter of your property, thereby becoming legally responsible for varied aspects linked to it.



Negotiating the Offer
In Spain, most offers begin with verbal negotiations and then end with a written offer. It will be important to have a lawyer that speaks both your language and Spanish at this stage.
During negotiations, the asking price is the ceiling price for the offer. The floor is your initial offer. The actual selling price typically falls in between. It is best to offer a price that is lower than the asking price to get started. Most sellers expect this and price their property higher than what it is worth with this in mind.
On the other hand, you need to be careful not to put in a ridiculously low offer. A buyer could be offended by such a low amount and refuse to negotiate with you.
How much should you offer? It depends on many different factors, including:
The current market
The seller and their circumstances
The asking price
The property
Once you think about these issues, you should offer the lowest price that you think will still be within the buyer's range.
As you negotiate, you are trying to reach an agreement on several factors:
Price
Contents
Completion dates
Buying a property in Spain for dummies Tip: Never make a binding commitment, however, until you've done your due diligence on the property.
Once you have agreed verbally, get your lawyer to write everything down for clarification. Your lawyer will word the agreement so that it is just a clarification and not a binding agreement.
Applying For a Mortgage
Finding the right mortgage can be difficult if you are a non-resident because Spanish banks are very traditional. They tend to give better deals to their contacts. For mortgages, who you know is as crucial as how much money you have.
Here are some different mortgages found in Spain:
Non-Resident: Mortgages are between 60 and 70% of purchase price or valuation.
Fiscal Resident: Mortgages are 80% of purchase price or valuation
Retirees: If you already get a pension and are over the age of 60, the mortgage will be in your name, though you may appoint a guarantor. This has inheritance tax implications, so to your lawyer if you fall into this category.
Construction: Construction loans are much more complicated than standard residential loans. In general, you can borrow 60 to 70% of the land plus construction costs.
Commercial: Maximum mortgage for commercial properties is 50% of purchase price or valuation. In the case of a commercial loan, you will also need to have business plans, your experience running a similar business, and the operating costs and income of the previous business at that location
Non-residents can arrange a mortgage term of 25 years (some banks limit this to 20 years), while residents can get up to 30 years as long as you are not over the age of 75. Banks will require that you have home insurance and may require mortgage insurance and life insurance.
Interest rates are determined by the annual Euribor plus a lender's margin. Banks will give you a discount on their margin if you contract additional products with them, such as the insurances required.
When determining whether you qualify for a loan, your lender will use the debt-to-income calculation. This is just your monthly debts including the new mortgage compared to your monthly net income. Most lenders require this ratio to be below 30 to 35%.
If you earn €3,000 after tax, your debts cannot be more than €900. Although there are other factors, the debt-to-income ratio is the main one used during underwriting.
Preparing the Purchase
There are three things you need to know about preparing the purchase: Contracts, deposits, and conditional clauses. Here is a quick summary of each in our guide "Are you Buying a property in Spain ? A simple explanation for dummies! "
Contracts
Once the negotiations and due diligence are completed, you will sign a contract. This is not always necessary but is always a good idea. It protects both you and the seller and is always needed if you have to pay a deposit.
Although a contract can be created without legal representation, this is not suggested. You should have your lawyer draw up a contract and send it to the seller's lawyer to be approved. Although estate agents can provide you with a standard contract, they may not be best for your unique needs.
When creating a purchase contract, there are many kinds to use. Some of the most common include:
Reservation Contract
Option Contract
Private Purchase Contract ( deposit vs downpayment contract)
Reservation Contract
This is a contract that asks you to put down a deposit in order to reserve a property for a period of time – typically between 15 and 30 days. At the end of the specified time, you can do one of two things:
Back out of the purchase and forfeit your deposit, typically 3,000 to 6,000 Euros
Sign a contract that commits you to buying the property – your initial reservation deposit will be used toward your new contract deposit (deposits will be discussed further in the next segment)
If you decide to move forward, the seller has to sell you the property at a price agreed upon when you signed the reservation contract.
If you are buying an off-plan property, the developer may ask you to sign a reservation contract. However, estate agents may also ask you to sign this type of contract for resale properties.
Beware of this kind of contract because you are more likely to commit to the purchase if you have paid a deposit, even if you have second thoughts later. Additionally, reservation contracts:
Are signed before due diligence
Are often vaguely worded so that buyers have little protection
If you feel that you need to sign a reservation contract, never do so without checking with your lawyer first. Make sure you are given the approved Building License before signing a reservation contract. If you do not have this before you sign, you can lose your deposit without any legal recourse.
Buying a property in Spain for dummies Tip: Do not work with an estate agent that makes you pay a deposit simply to talk with a seller.



Option Contract
With an option contract, you pay the seller a deposit, and the seller sells the property at the agreed price as long as you do so within the timeframe listed on the contract. The deposit is usually 5 to 10% of the sale price of the property.
If you decide to purchase the property, the contract becomes a private contract of sale. In this case, your deposit goes toward the purchase of the property.
However, if you do not exercise your option in the given time frame, the seller does not have to sell the property to you. You will also not get your deposit back.
Sellers like this type of contract, but it can be risky for buyers. You should always do your due diligence before signing an option contract.
Private Purchase Contract
There are two different types of private purchase contracts: Deposit and down payment. The main difference is that you can back out of the deposit contract, but both parties have to agree for you to back out of the down payment contract.
Deposit Contract
With a deposit contract, you will be required to pay a deposit of 3000 to 6000 Euros at the contract signing. If you do not buy the property, you lose the deposit. If the seller backs out, they will pay you back twice what you put down as a deposit (known as arras penitenciales). This is the most popular type of contract in Spain.
Although it would be expensive to back out of this contract. It is possible. You would lose your deposit but not be required to go through with the purchase.
In some instances, deposits are refundable. This typically has to do with conditional clauses listed in the contract. Before signing the contract, make sure you know whether the deposit can be returned or will be forfeited.
Buying a property in Spain for dummies Tip: Do not sign this type of contract when buying a bargain property. Since it allows the seller to back out, they may find a better offer and be willing to pay the fee.
Down Payment Contract
This contract is similar to the deposit contract except that no one can back out of the agreement unless both parties agree. This means that neither the buyer or seller can walk away unless the other party is willing to walk away as well.
When signing a down payment contract, you may want to include conditional clauses (see below). Your lawyer can help you create a contract that looks out for your best interests.
Conditional Clauses
Most contracts contain conditional clauses. These are conditions that must be met in order for the contract to go through. If agreed upon conditions are not met, then the contract is no longer valid, and the deposit is returned.
Keep in mind that if you choose not to go through with a contract for a reason not covered by a clause, you will forfeit your deposit. In some cases, you may be forced to purchase the property against your will.
Here are some of the more common conditional clauses found in contracts:
Buyer finding a mortgage.
Getting the needed permissions and permits for planning and building.
Learning that there are future plans for something that would lower the value or enjoyment level of the property.
Confirming that the land area on the deed is as described.
Learning about pre-emptive rights or restrictive covenants.
Confirmation of the land area being purchased with a property.
Selling another property before the buyer can purchase this one.
Getting a good building survey or inspection.
Finally, if you are buying contents from the home, be sure to have these listed in the contract as an addendum. All fixtures and fittings are automatically are sold with the property unless otherwise stated
Power of Attorney
A Power of Attorney allows someone to sign documents in your name if you cannot do so yourself. Signing a power of attorney, known as  poder notarial, will allow you to appoint someone of your choosing to act as your proxy.  Since the buying process includes many pieces of signed paperwork and procedures during conveyancing, a power of attorney allows someone you trust to take care of things so that you don't have to remain in Spain for long periods for time or constantly fly back and forth.
Although you can sign a power of attorney to anyone, many foreign property buyers give this to their attorney.
Getting a Tax Identification Number
In Spain, the tax identification number for foreigners is known as an NIE. You should get this tax ID number as soon as you hire a lawyer. This number will let you pay taxes. It is also needed for:
Buying property
Selling property
Inheriting assets in Spain
Establishing a bank account
Buying insurance
Getting a mortgage
Enrolling a child in school



Completion
The completion happens at a notary's office. Before you can sign, the notary will be sure that all conditions of the contract have been met. In addition to signing the deed, completion also includes:
Transferring legal ownership: Although it is customary for both parties to be at the completion, someone can represent you with a power of attorney. Additionally, if a husband/wife team buys a property, the husband can get a power of attorney for the wife, or vice versa, to keep both from having to go to the closing.
Paying balance owed of the purchase price: This is the money you owe after subtracting the balance and mortgages from the purchase price. This money must be paid using either a bank transfer or a bank draft. The seller and buyer can agree to pay the balance in any currency they choose. The payment can also be made in another country, though the deed cannot be signed until the payment is confirmed.
Making other payments as needed
Once you have signed the deed and paid the money, the notary will give you a copy of the deed that shows you are the new owner. At this time, you will get the keys to the property. All taxes and fees must be paid within 30 days to avoid late payment penalties.
Property Registry Office
Once you sign the deed, it must be entered at the property registry office and become public information. Send the deed as soon as possible. We suggest getting it to the registry office the same day it is signed. This can be done through fax.
Until it is registered in your name, even if you've signed the deed, charges can be registered against the property, and you will have to pay for these charges. Once you are registered, you are the legal owner and no new charges can be incurred by the old owner.
After registration, the deed will be returned to your lawyer. This takes one to three
Taxes When You Buy a Property in Spain
Taxes on property sales depend on the type of property purchased as well as the kind of seller.
If the seller is a developer, you will pay VAT taxes of 10% as well as AJT (stamp duty) fees of 1 to 2%. For commercial properties sold by a developer, you will pay VAT taxes of 21%.
If the seller is not a developer, then the buyer will pay a property transfer tax between 8 and 10%.
Other Fees
Notary fees: Usually amount to between €500 and €1500.
Property registry inscription fee: 65% of the notary fee to register the property
Registering the Mortgage with the land registry: Nominal fee paid to the notary
Buying a property in Spain for dummies Tip: If you want to know about the taxes after you own a property, read here.
Getting the Advice of a Lawyer Immediately
As you can see, buying property in Spain is a complex process. Getting a lawyer at the beginning of the buying process is important because they can:
Verify previously gathered information
Help you understand taxes
Help you determine your final budget
Help you understand market prices and trends.
Provide you with tips based on experience
Help you find reputable real estate agents and property developers
Help you find best mortgage products for non-residents
Look out for your needs
Verify that the sellers are legally allowed to sell the property
Create and verify all legal documents
Make sure all legal requirements are met
Verify that the property has no associated debts
Understand current applicable legislation
Steer you away from potential problems
Offer insight on various options
A lawyer's fees are dependent on the specific services needed. However, in general, fees are 1% of the selling price of the property, in addition to the current VAT.
Finding the Right Lawyer
Your lawyer will be very important to your home buying experience. Look for a lawyer who:
Specializes in properties
Is part of an established firm
Is registered with Colegio de Abogados
Has the appropriate insurance policy
Is qualified as a banking lawyer
Is not financially connected with the real estate agent or developer
Is recommended by others
Although this guide "Are you buying a property in Spain ? A simple explanation for dummies" will give you the basics, we advise anyone thinking of purchasing a home in Spain to do their homework, as well as contact a lawyer who understands property purchases. As independent lawyers with great experience in this sector, Fuster & Associates can help you from start to finish, making sure you are fully protected.



Fuster & Associates has an experienced and dedicated team that will help you navigate the Spanish home purchase process. Additionally, we will be here to help you understand any other legal issues that arise from living in a foreign country. Meet our team and contact us.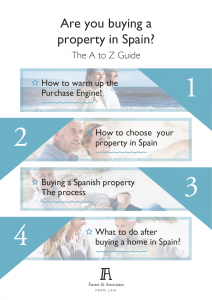 We want to help you navigate all the legal complexities that come with your home buying in Spain, but this article is legal information and should not be seen as legal advice.