Holders of the Spanish Golden Visa will be granted access throughout Europe's Schengen zone.
Last update: The Startups Law has included several improvements to the existing categories in Law 14/2013: Initial residence authorisation for investors is extended from 2 to 3 years.
As you know, governments change citizenship or residency rights for investment purposes. Is it fair? That's not for us to pass judgement on!
However, at Fuster Associates we like to shed some light into this type of agreements and assist our clients in making the most of all the opportunities available to them.
While these accords vary from country to country, and requirements may include a variety of investments in businesses, real estate and/or government bonds, there are some basic components we'd like to clarify for you.
What is a Golden Visa?
In Spain, a Golden Visa is a permanent residency visa that is issued to persons who invest in the country.
The most common method for obtaining a golden visa is through the purchase of real estate with a minimum value which, in Spain is set at € 500,000.
Freedom of movement, tax advantages and access to the EU single market, the legal system and social services are some of the main incentives for EU member states' programs.
Once granted, the investor is valid to work and reside throughout the national territory and so are his or her family members if they meet the age requirements stipulated by labor regulations.
What are the requirements to be able to get a Golden Visa?
The person requesting the Golden Visa must prove his or her ability/willingness to:
Invest in financial assets:
Public Debt (2 million €).
Shares or shareholdings of companies with Spanish capital (1 million €).
Investment funds, closed-end investment funds or venture capital funds set up in Spain (1 million €).
Bank deposits in Spanish financial institutions (1 million €)
Invest in real estate (500,000 €)
Invest in a business project in Spain
There is no minimum amount required for this type of investment but its impact on the economy is assessed according to its potential for:
Creation of jobs.
Socioeconomic impact in the geographical area where it will be developed.
Relevant contribution to scientific and / or technological innovation.
Who can apply for a Golden Visa?
The investor him/herself or a duly accredited representative presenting the application according to the requirements of the official model.
Where can you apply for a Golden Visa?
If you are outside of Spain you can apply for a residency visa for investors at the Consulate of Spain in the country of your residence.
If you are legally in Spain or have an investor visa you can apply for a residency permit for investors at "La Unidad de Grandes Empresas y Colectivos Estratégicos" (Large Companies and Strategic Collectives Unit (CGU-CE)).
What type of documents must you submit?
Public or private medical insurance with an entity operating in Spain.
Criminal record.
Accreditation of economic means.
Accreditation of investment. This will vary depending on the type of investment. If you've purchased a property, you will need a certificate from the Property Registry and the deed of purchase. If the purchase of the property has not been formalised yet you will need a contract formalised as a public deed.
Do all foreign documents need to be translated and legalised?
Yes, all documents must be translated into Spanish.
Foreign public documents must also bear the Apostille of The Hague Convention or, failing that, they must have been legalised through diplomatic channels.
Can family members accompany the investor?
Yes, at any time family members may request – jointly or successively – the authorisation and/or the Golden visa:
Spouse or de facto partner.
Children under age or those who are older but depend economically on the visa applicant.
Ascendants in care.
No additional investment is required for each member of the family.
If the property has a value of 500,000 euros, the buyer may obtain an investor visa and his or her spouse will be issued a visa as a family member, establishing that the investor has economic resources and health insurance to cover for both.
What's the application process like for a Golden Visa?
The Startups Law has included several improvements to the existing categories in Law 14/2013: Initial residence authorisation for investors is extended from 2 to 3 years.
Investors are granted an Investors Residency Visa (temporary residence permit) for one year.
This can be extended to a two-year residency permit, renewable for additional two year durations. In order to hold and renew the residence visa, the investor must maintain his or her investment in Spain, and s/he is required to conduct a visit during the residence period. After 5 years of residency, investors can then apply for a permanent residence visa, and after 10 years of residency, citizenship can be requested.
The applicant is required to issue a NIE (identification number for foreigners) to be able to conduct any kind of financial transaction e.g. opening a bank account, setting up a company, purchasing or renting a real estate property, or any other type of paperwork.
This number also serves as a tax identification number for individuals.
Note: Citizens from Latin-American countries, Andorra, Equatorial Guinea, Philippines, Portugal and Sephardic people can obtain Spanish citizenship after holding residency for only two years.
What are the benefits of the Golden Visa?
Holders of the temporary resident permit through the Golden Visa Program will be granted access throughout Europe's Schengen zone without any visa requirements.
Another advantage of the Golden Visa Program is that they don't require a mínimum stay in the Spanish territory.  There is no obligatory physical residence in the country as with other similar programs.
An investor's spouse and children under 18 years old can be included in a single application
What other benefits are there?
 With the visa and residence permit, you may live and work anywhere in Spain. This applies to your relatives as long as they meet the expected age labour regulations.
Streamlined processing: Visa decisions are made and notified within 10 working days. Residence permit decisions are made within 20 working days.
The application for residence permits and renewals extend the validity of the stay or residence status of the applicant until the procedure is terminated.
How can we help you?
 Have you made a significant investment in Spain? Were you unaware that you can benefit from the residency regime for investors?
At Fuster & Associates we can assist you at every step of the complex Spanish Golden Visa application process as well as your property purchase. Do you have any doubts? Please feel free to send us a message or book one of our: No Obligation Free Consultations here.
We can't wait to help you write your new chapter in Spain!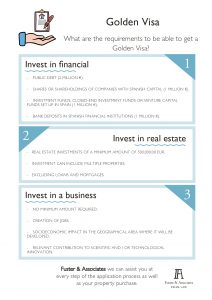 We want to help you navigate all the legal complexities that come with your home buying in Spain, but this article is legal information and should not be seen as legal advice.