We can look back on 2015 as the year in which the stabilisation of the Spanish property sector which had begun in 2014 was consolidated and built upon with sales increasing in most areas of the country and prices starting to rise in the major cities and tourist hotspots.
Two of Spain's largest valuations companies have already released their full price roundup for 2015 with positive results that bode well for 2016. The Sociedad de Tasación's report records new-build property prices as having risen by 2.9% year-on-year in 2015 while Tinsa's data shows a 1% national price increase for the year.
Prices rising fast in major cities
In both data series Madrid and Barcelona recorded the strongest increases and, according to Tinsa, prices in Barcelona increased by 8.7% and prices in Madrid were up by 3.8%. The Sociedad de Tasación put the rises at 6.2% in Madrid and 4.8% in Catalonia although as these are regional results the increases for the cities themselves may have been higher.
Results by province
Tinsa's province-by-province breakdown showed good performances from almost all of Spain's major tourist areas. Leading the way was the Costa Brava (Girona) with a 10.7% rise followed by the Balearic Islands: +2.7%, the Costa Azahar (Castellón): +2.1%, the Costa de la Luz (Cadíz): +0.9%, the Costa del Sol (Malaga): +0.7%, Las Palmas: +0.4%, and both Tenerife and the Costa Blanca (Alicante) at +0.3%.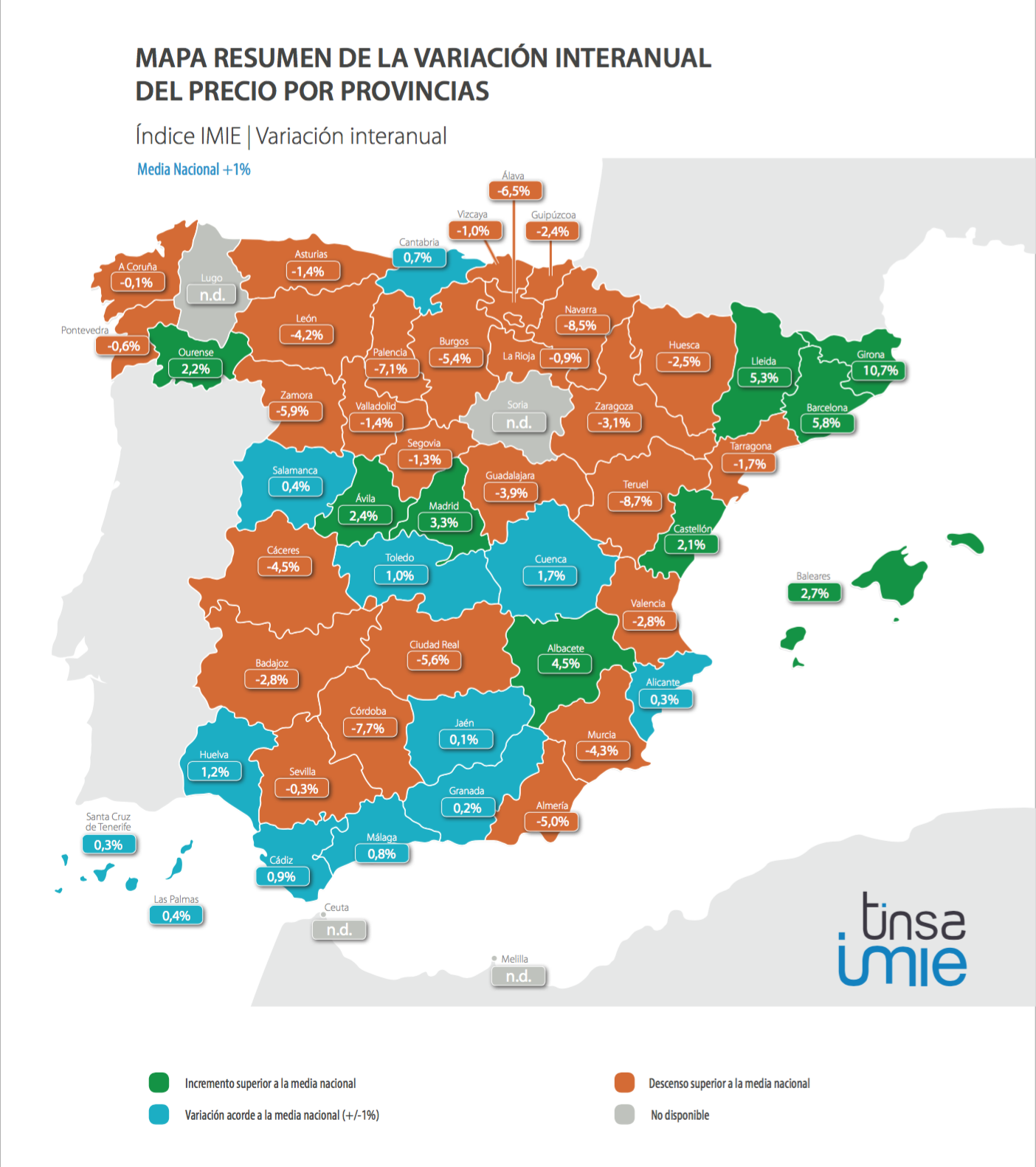 The year wasn't as good for Murcia or Almeria though and the provinces saw declines of 4.3% and 5% respectively. However, both provinces have registered increases in sales over the last couple of quarters and it will be expected that prices will soon stabilise.
Spanish property undervalued?
In further good news for Spanish property data released by the OECD has shown property in Spain to be the most undervalued of all countries studied. The story, which was picked up by the British newspaper the Daily Telegraph, stated that based on historical averages Spanish property is currently 26% undervalued.
In some areas this "undervaluing" of property is due to oversupply but in others such as the most popular coasts and main cities property is truly undervalued and we are already seeing a correction in prices with investors taking the opportunity to buy up the best assets. This is also leading to new development as stock becomes depleted and quality product becomes scarce.
Foreign demand strong
Demand for property in Spain from foreigners has risen steadily over the last few years with the British market in particular returning robustly as can be seen in the graph below. The property portal Rightmove backs up this data in its most recent report on the most popular search terms on its website which is released monthly.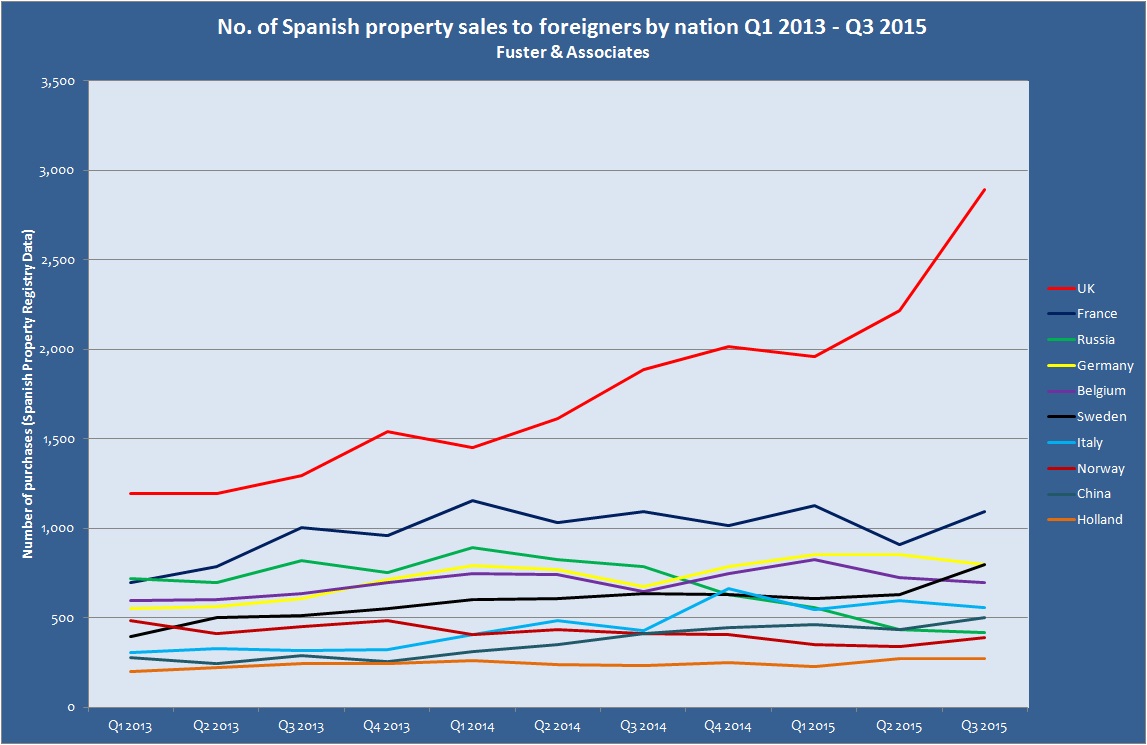 Graph showing the evolution in the number of purchases of Spanish property for ten key foreign markets
In the November edition Spain was the most searched for country taking over 30% of all searches with France a distant second with just over 16%. The top 8 searched for regions were all in Spain with Andalucia top followed by Valencia, the Canary Islands, Alicante, Costa del Sol, Málaga, the Balearic Islands and the Costa Blanca South.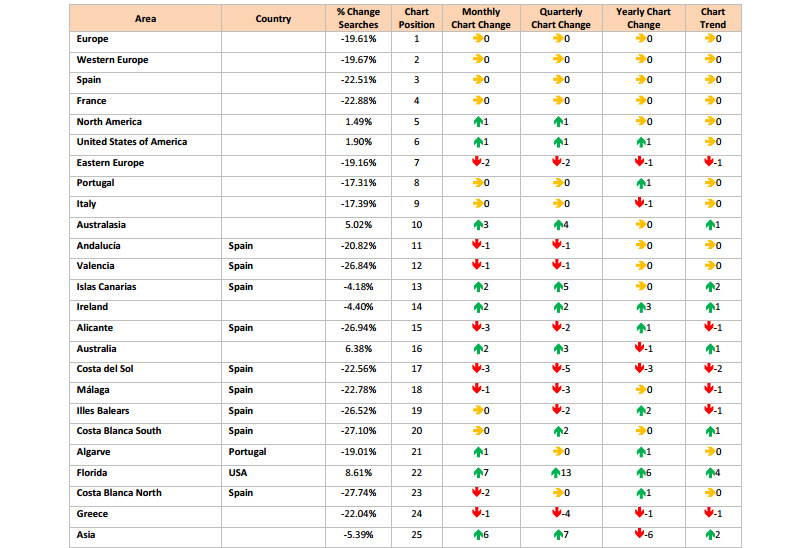 Table showing Rightmove's top 25 most-searched for locations in November 2015
Bright forecast
On the whole then things are looking positive for Spanish property and 2016 should witness a continuation of the trends which were evident in 2015, namely a continued increase in sales, stable prices nationally with rises in prime areas and an increase in the number of new developments.
Main image: Artist's impression of the Finestrat Villas development on the Costa Blanca North, Valencian Community ©Patrimi Resorts S.L.