The release of the Spanish property registrars' report on the first quarter of 2016 has shown the recovery in Spain's property sector shows no sign of dropping off. Prices were up by 6.9% for the quarter and sales had increased by 9.8% with both statistics illustrating just how strongly the sector is bouncing back from the crisis.
Sales stood at 99,427 for the first three months of the year with the figure being the highest recorded in the last three years. Another very notable statistic was that the number of new-build sales finally increased after having been in free-fall for the last few years.
New-build sales reached 19,385 in the quarter, up 22.5% on Q4 2015, while the number of resales came in at 80,042, a 17.3% increase on the previous quarter. Sales rose in all but one of Spain's regions (Murcia: -4.3%), showing that the recovery in demand is now evident across the board.
The strongest increases in sales were recorded in Madrid: 32.9%, the Basque Country: 26.6% and the Canary Islands: 26.5%. Save for Murcia the other main tourist regions all performed well in the quarter and sales were up 18.6% in Catalonia, 16.1% in Andalucia, 14.3% in the Valencian Community and 7.3% in the Balearic Islands.
Foreign buyers
The number of foreign buyers reached a new peak in the registrars' records in Q1 2016 and hit 12,856, 12.9% of the total sales made in the quarter. The top five were the same as in Q4 2015 and were also in same order with the British leading the way followed by France, Germany, Sweden and Belgium.
Although British buyers still made the largest percentage of foreign purchases in Spain the number was slightly down (-2.7%) on the last quarter of 2015. With the EU referendum coming up next month we can expect British purchases to remain stable or marginally ease off as potential buyers await the outcome.
The French market continued at around the 1,000 buyer mark where it has stayed since the third quarter of 2013 while Germany provided 895 buyers, just slightly down on the record it set in Q4 2015 of 941.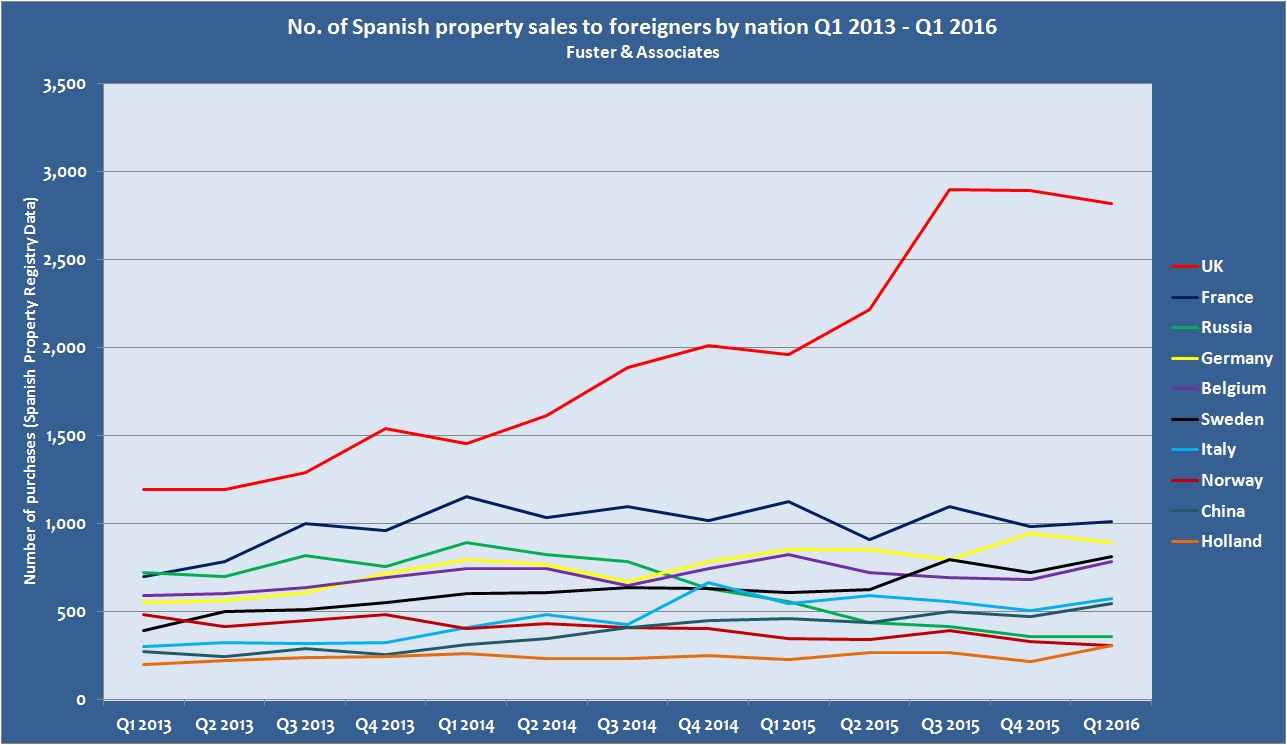 Swedish and Belgian buyers were extremely active during the first three months of the year up 12.7% and 15.3% respectively on the previous quarter. The number of Swedish buyers for the quarter was 815, pushing over the eight hundred mark for the first time while the number of Belgian buyers at 785 was the second highest ever recorded.
Beyond the top five other notable movements were seen in the Chinese and Dutch markets which both saw the highest quarterly number of buyers on record reaching 547 and 308 respectively. Numbers of Russian and Norwegian buyers continued declining influenced by low oil prices among other factors.
Main image: A photo of the Residencial Ana development on the Costa Blanca © TM Grupo Inmobiliario