Property professionals in Marbella are foreseeing a bright future for the local property market in 2016 following a year which saw the consolidation of the recovery transforming into growth on a regional level in the Costa del Sol.
According to a report from the estate agency Marbella Direct, Marbella was the key to the coast's recovery during 2015, proving highly attractive to buyers from across Europe and beyond.
Tourism boosting demand
Spain's tourist sector has buoyed Marbella's market considerably, following three consecutive years of record-breaking visitor numbers on the Costa del Sol and its forever popular coastal resorts. Predictably the growth in tourism has translated into a boost for Spain's property markets, particularly in destinations like Marbella that consistently attract high numbers of holidaymakers.
Occupancy rates in Marbella's tourist accommodation are high and are being driven by a reinvigorated European travel market with numerous new air routes and an attractively low euro adding to its appeal as a holiday destination for those outside the Eurozone.
The growth in tourism is positively reflected in the recovery seen in Marbella's property market which hit an all-time low in 2012. There has been consistent price-growth in the following years and although it has not yet become a seller's market, it is equally no longer a buyer's market either.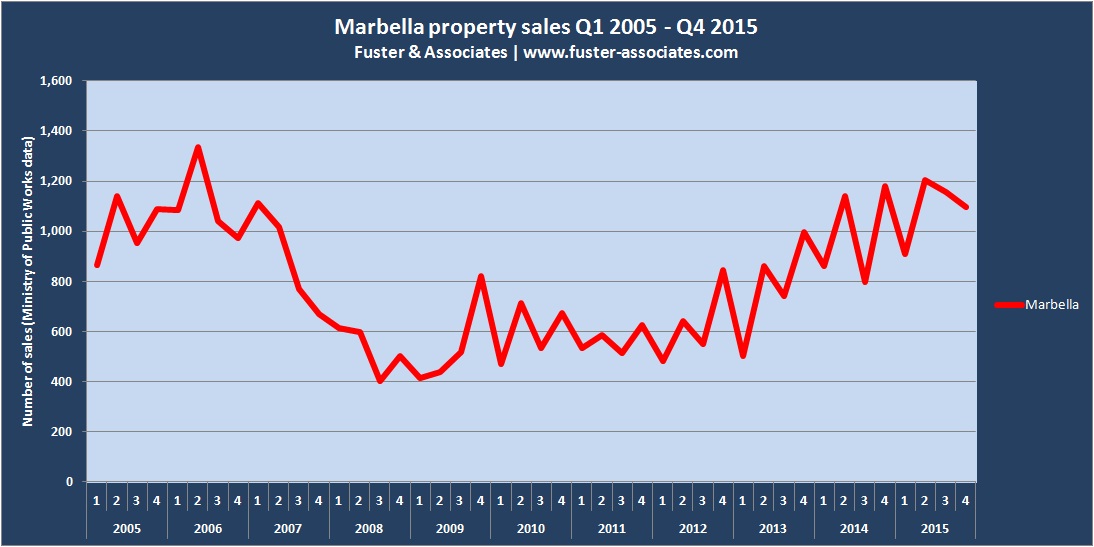 Supply and demand balanced
At the moment the property market is in fact quite balanced, with no more distressed properties and a solid demand for the lifestyle that Marbella and its surroundings offer. Demand has shifted from being mostly price-driven to focusing primarily on quality and lifestyle considerations. The market is consistently strong for prime beachside and golf fronting/country club locations although there's an increasing preference among many for contemporary villas and apartments that offer the latest architectural styles and technological features.
The resale property market in Marbella is reported as being strong, within a regional market that remains dominated by foreign buyers. Spain's Ministry of Development reported that 17% of property purchases in the region were made by foreigners from Europe and beyond in 2015.
2015 saw a significant decline in interest from Russian buyers due to the collapse of the rouble although the slack was taken up by increasing numbers of buyers from Scandinavia, Belgium, France and the UK. The British market also saw important growth last year with sterling buyers seeking to take advantage of a weakened euro offering favourable exchange rates.
Instability in the Middle East also fuelled sales to mostly middle class Arabs some of whom were buying under the Golden Visa program. Another reason for an increase in the number of Middle Eastern buyers was the deal made between the EU and the UAE for visa-free travel.
To date, the area has failed to attract significant numbers of Chinese investors, something that is predicted to improve throughout 2016 especially as there has been steady growth in the number of Chinese buyers on a national level over the last few years.
New development gaining traction
Reports suggest that the future focus of demand in Marbella is to be new homes, offering 21st century comfort and luxury in a glamorous sunshine setting. Current projects are mid-sized and predominantly upmarket, with Taylor Wimpey one of the first promoters to return to the market in force with others, such as TM, also entering the fray.
New properties are selling fast and off-plan sales are booming in Marbella and surrounding areas, with new projects often selling out before construction begins, as seen at Nueva Alcántara, a luxury residential development close to San Pedro. Service is another aspect that is becoming important, along with modern design and luxuries and as a result some of the new developments feature clubhouses with reception areas, lounges and gyms, while the overall tendency has been for slightly more compact villas. Demand remains high for three-bedroom apartments in a market that was previously heavily slanted towards two-bedrooms.

Image: The Marbella Senses development in Marbella being constructed by TM Grupo Inmobiliario
There has also been large-scale investment in Marbella involving sizeable tracts of land acquired for development of new residential areas as well as the purchase of entire resort areas.  The latter includes the €225m takeover of Sotogrande SA from Barceló by the American and European Investment funds Cerberus Capital Management and Orion capital.
In January this year, La Zagaleta announced its acquisition of the Valderrama golf course and adjacent development land for €40m. A similar takeover of Puerto Banús is also rumoured while Urbania International is developing the first phase of luxury Icon Signature Villas in Santa Clara and Plantinum Estates is set to start construction of a hotel and village-style residential development on 170,000m2 of beachside land adjacent to Los Monteros, within Marbella city limits.
Bright outlook
Looking ahead the Costa del Sol remains an attractive, stable and secure destination that is set to see continuing price growth in the near future. Marbella is likely to be the biggest beneficiary of increased buyer activity, with its healthy dynamic of demand outstripping supply particularly at the top end of the market.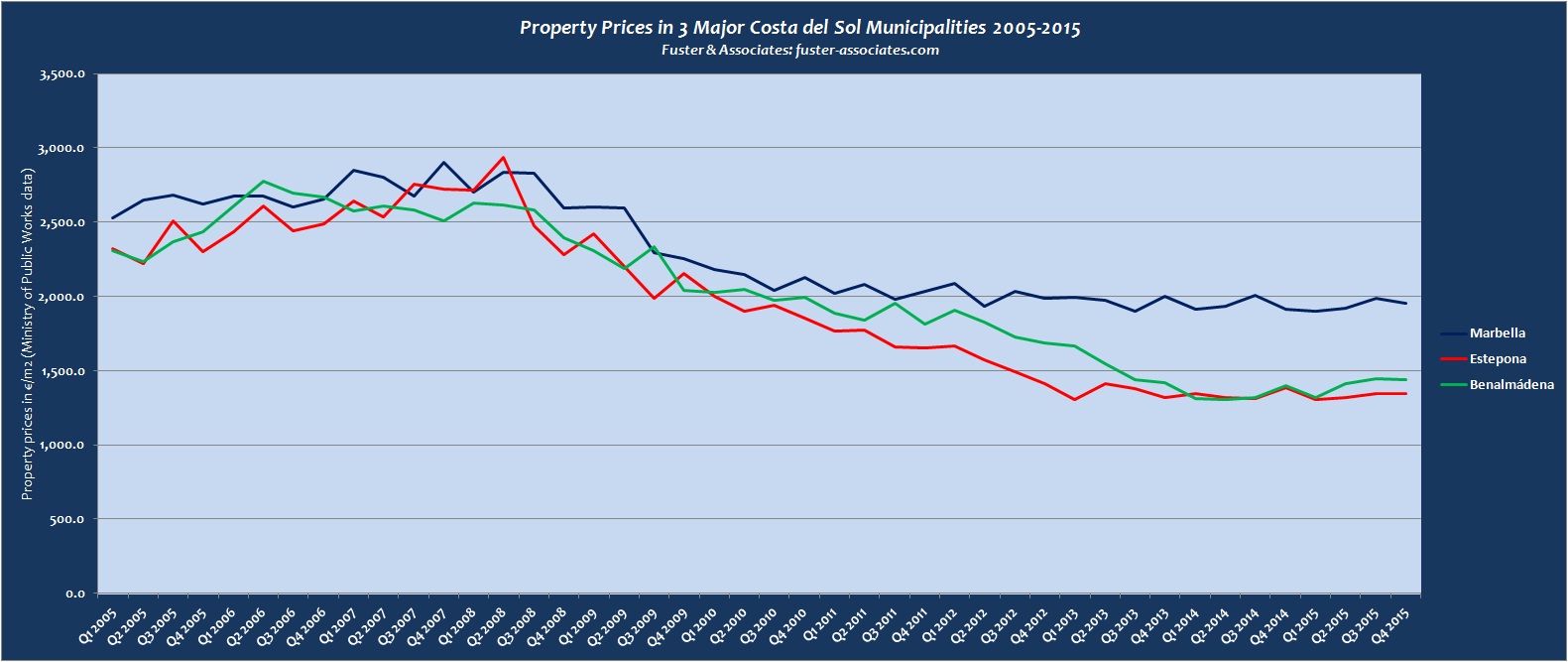 The relatively stable position of Spain's banking sector is reflected not only in ECB stress tests but also in a gradually normalised lending marketing in which mortgages are once again available. Thisis expected to drive the recovery of the domestic property market that began at the beginning of last year.
Top performers in Spain's national recovery are Madrid, Barcelona, the Balearics and Marbella/Costa del Sol, where the process of growth is already well under way. For 2016 around 50,000 new homes are expected across Spain, estimated to quickly reach sustainable levels of 200,000, with the Costa del Sol leading the way in terms of quality.
Overall Marbella is expecting continued growth in 2016, with rising property prices and more new modern quality developments being launched – along with a strengthening resales market that reflects the recovery of the national property market. What's more, prices remain attractive and rental income from both holiday and long-term rentals make this a good year in which to purchase property on the Costa del Sol at a time when growth is far from exhausted.