Data for 2014 showed that it was the year that the Spanish property sector stabilised after the turbulent years of crisis which it had endured since 2008. When looking at this data it becomes evident that two of the provinces benefiting most from the upturn are Malaga (Costa del Sol) and Alicante (Costa Blanca).
In 2014 only the provinces where Spain's two major cities are located (Madrid and Barcelona) saw more property sales than Alicante and Malaga. The provinces fared even better when looking just at new-build sales with Alicante in second place with 9,985 sales and Malaga in third with 8,661.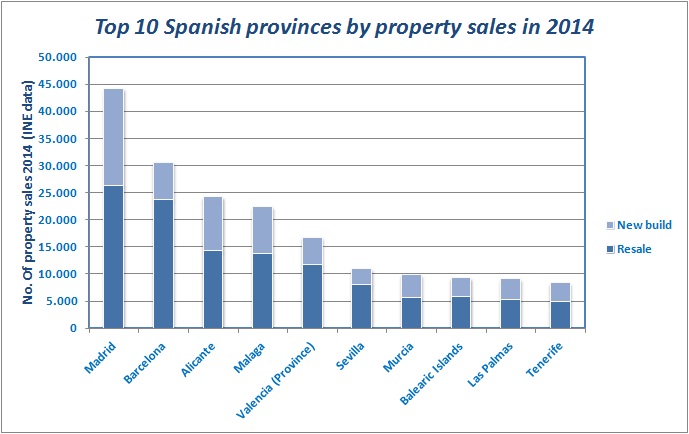 The two coastal provinces are benefiting from the incredible rise in the number of foreign buyers which has been witnessed over the last few years. Foreign buyers now make up 13.88% of the market (Q4 2014) and many of them look no further than the Costa Blanca and Costa del Sol which are undoubtedly Spain's two most recognized coasts internationally.
As the new-build sales figures suggest, the two coasts are among the only areas of Spain where developers are building new projects. The Costa Blanca South has seemingly already shaken off the shackles of the crisis and has become an epicentre of new construction with developers now starting to increase prices in areas such as Orihuela Costa.
The Costa del Sol was also one of the first areas of Spain to start seeing signs of positivity in its property sector. The coast, which is driven by the allure of destinations such as Marbella and Fuengirola, is now reported to have a lack of new-build property with demand outstripping supply in certain areas.
The future looks even brighter due to the diversification of the foreign market which has occurred since the crash. The British market remains strong with an 18.62% market share in Q4 2014 but does not dominate as it once did with the remaining 80%+ of the market being spread across numerous nationalities.
Foreign markets with huge growth potential have also started to show interest in Spanish property with Russian buyers becoming a prominent force over the last few years and the Chinese also increasing their share of the foreign market to over 4% in the last quarter of 2014 which bodes well for the future.
Also the more traditional markets are picking up with the British increasing their market share from 18.06% to 18.62% from Q3 to Q4 2014, and the Germans from 6.45% to 7.25% in the same period. All this paints a positive picture of the Spanish property sector: a picture that should continue to improve over the coming years.
Main image: New-build properties under construction on the Oasis Beach VII development in La Zenia, Alicante © Contrimar Country S.L.