The data for the final quarter of 2015 was released this week by the Spanish Registrars allowing us to analyse the year as a whole. The statistics show a strong increase in prices and upward movement for sales both nationally and in the foreign buyers segment.
Prices
Prices were up 6.6% in 2015 which the Registrars say confirms the positive trend which had began to develop in 2014. Their forecast for 2016 is a more measured rise of around 5% which will bring an end to the extreme increases and decreases of recent years and signals a more stable and healthy future for Spain's property sector.
This steadiness was already apparent in the data for the fourth quarter of 2015 which showed a minor increase of 0.94% on the previous quarter. The Registrars believe that investors will be calmed by an end to the fluctuations in prices and will be more inclined to buy in Spain thanks to the stable panorama which is forecast.
Foreign purchases
The percentage share of the market represented by foreign buyers rose to an all time high in Q4 2015 at 14.38%. This meant that of the 84,301 purchases made last quarter 12,084 were made by buyers from abroad which again highlights the importance of the foreign market to the Spanish property sector.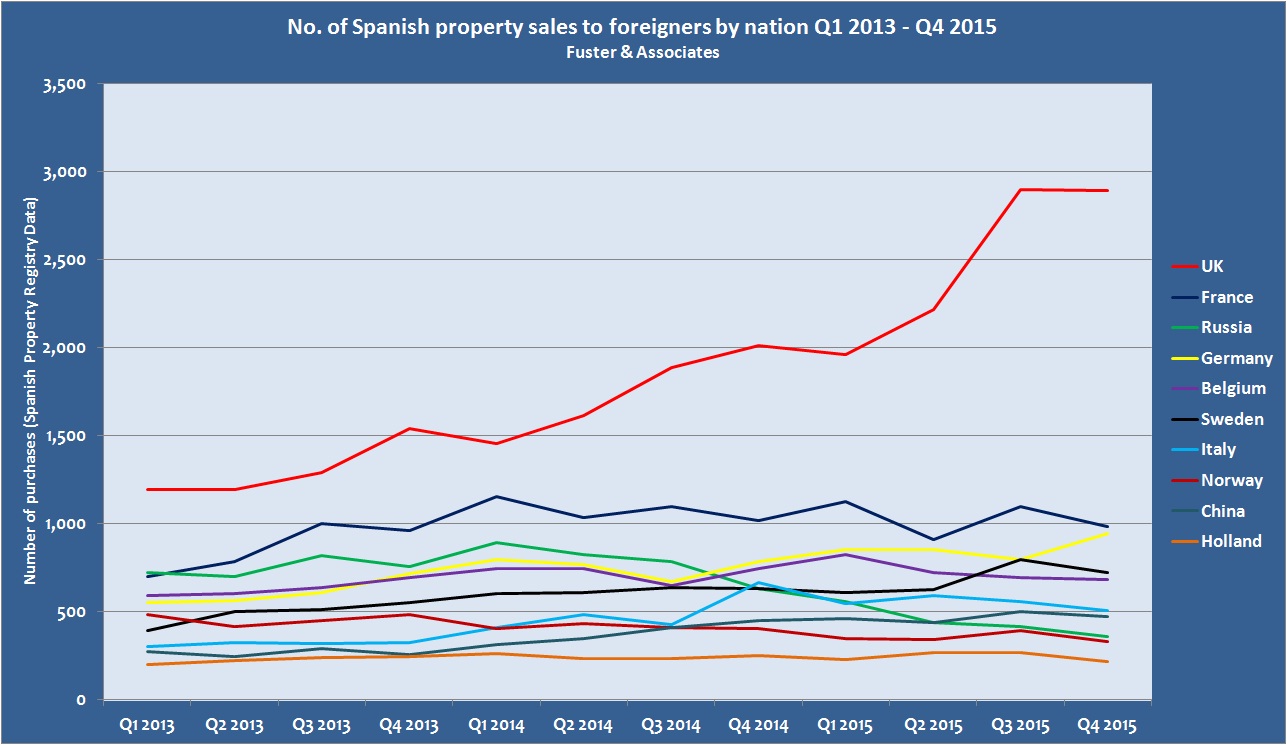 Britain again provided the largest proportion of foreign buyers at 23.95% equal to 2,891 purchases during the quarter up 44% year-on-year. 2015 as a whole was extremely positive for the British market with 9,958 purchases putting the increase on 2014 was 43% eclipsing the 33% rise registered for the previous year.
Growth markets
Britain was therefore the market which registered the strongest growth in 2015 well ahead of Ireland: +24% yoy, China: +23% yoy, and Switzerland: +21% yoy, in second third and fourth position respectively in terms of growth in the number of purchases.
France 2nd in number of sales
France remained in second place regarding the number of purchases made in Q4 with 983, down 10% on the previous quarter (1,095 purchases) and down 3% on Q4 2014 (1,015 purchases). The French market was stable in 2015 and shrank slightly by 4% on the previous year with a total of 4,112 purchases.
Germany rising steadily
The number of German purchases of Spanish property in 2015 rose by 14% on the previous year to 3,445, less than the 24% growth recorded for 2014 but still a significant increase. The final quarter of 2015 saw growth of 18% on the previous quarter and 20% year-on-year.
Sweden holds on to 4th place
Sweden consolidated itself as the fourth largest foreign market for Spanish property with 723 purchases in Q4 2015 up 15% year-on-year but down 9% on Q3 2015. There was an increase of 11% in the number of Swedes buying in 2015 (2,755) on the previous year and when analysing the Swedish market on sales per capita, it is even stronger than Britain's.
Belgian market solid
The number of properties in Spain bought by Belgians in 2015 stood at 2,924 up marginally on 2014 at 1.5%. In Q4 2015 Belgians made 681 purchases down 2% on the previous quarter and 9% year-on-year. After very strong growth in recent years the Belgian market now seems to have settled although the record attendance at last weekend's Ghent property exhibition suggests there is still very high demand.
Russian buyers disappearing
The Russian market has been in freefall since Q1 2014 and shrank by a huge 43% in 2015 to 1,770 purchases down from 3,131 in 2014. Q4 2015 saw a total of 361 purchases by Russians down 13% on Q3 2015 and 43% on Q4 2014.
The only positive which can be taken from the current levels of Russian purchases is that the reasons for the contraction of the market are easily identifiable economic factors. The demand from Russians for Spanish property therefore continues to be high and if the economic situation changes it may once again become a key market.
National sales
Sales in Spain as a whole reached 354,538 in 2015 an increase of 11% on 2014 meaning that growth of the foreign market (+13%) is outstripping growth in the domestic market. Q4 2015 saw total sales contract on Q3 by 9% although Q4 is always a weaker quarter and sales had risen on the same quarter of 2014 by 8% which provides a more useful benchmark.
All considered the Spanish property sector is rapidly returning to health and interest from foreigners is strengthening as sales and prices rise and the second home market reactivates with new developments springing up and buyers again being able to access credit to help fund their purchases.
We therefore expect to see further increases in both prices and sales over the coming quarters and there will be a noticeable increase in construction in high-demand areas such as Marbella and surrounds on the Costa del Sol.
Main image: Artist's impression of a new-build property on the Salinas development situated on the Costa Blanca South, Valencian Community ©Patrimi Resorts S.L.