We often receive enquiries from clients and real estate professionals regarding the legal situation of tourist rentals in the Valencian Community and whether it is necessary to register the property. Here we will outline the most important aspects of Decree 92/2009 and look at what property owners can expect for the future.
At the moment, if you own just one property which you wish to use for holiday rentals then there is no need for it to be registered. Owners of 2-4 tourist rental properties must register the properties and it is compulsory for owners of 5 or more holiday rentals to register as a business in order to legally let the properties.
However, this year draft modifications were published which would make it compulsory for ALL holiday lets in the Valencian Community to be registered officially. These modifications have not yet been passed but it is advisable for those using their properties as a holiday let to make the application now in order to avoid future problems.
What is considered to be a tourist rental?
Decree 92/2009 gives a definition of what will be considered as a tourist rental which can be translated as the following:
Article 2. Definition of tourist accommodation
1. Tourist rentals are properties of any type which are rented out regularly in exchange for payment, with immediate availability and with the aim of fulfilling accommodation needs for tourism, holidays or leisure.
2. It will be considered that the property is rented out on a regular basis if any of the following are the case:
a) The property is let for tourist use by a company which manages holiday rentals.
b) The property is made available to tourists by its owners or deed holders, regardless of the length of the rental, and that services are provided which are considered to be standard hotel industry services.
c) When advertisements of the property are aimed at tourists. This will be considered to be the case when the property is advertised via travel agencies or any other means which is aimed primarily at tourists including internet sites and other channels provided by new technologies.
Services which are deemed to be standard hotel industry services are outlined in Article 3 and include cleaning, change of linen, storage of luggage, laundry, repairs and maintenance and all services similar to these.
Decree 92/2009 distinguishes between three different types of tourist rentals which are classified according to the facilities which are available to guests. The three types are Superior, Premier and Standard. The requirements for each can be seen in the table below: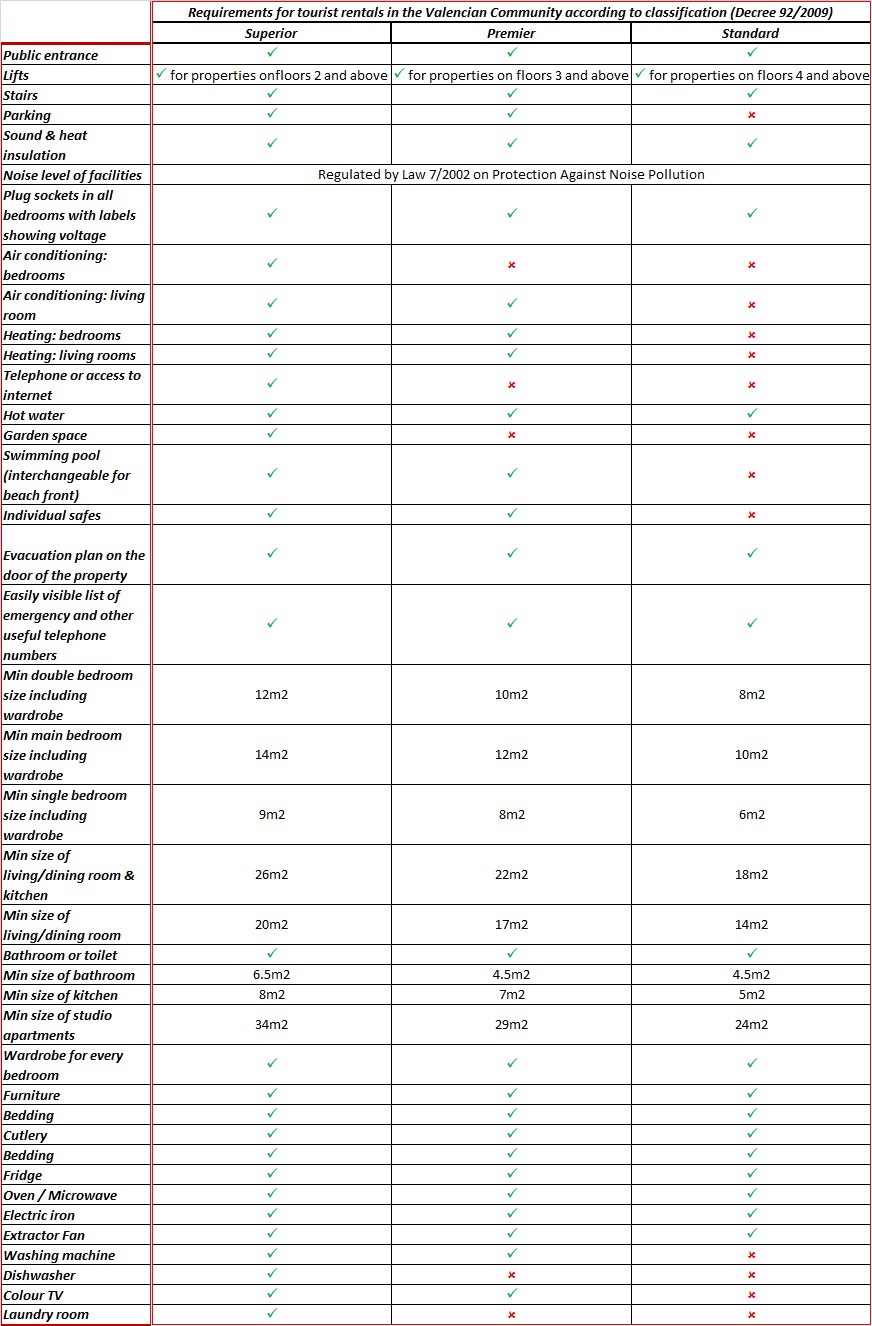 Other key aspects of the law
> The property's deed holder, owner or management company can request a deposit for rentals which will be no more than €250 unless explicitly stated in the contract.
> The following facilities / services are considered as standard (where present) and will not provide basis for higher charges: Upkeep, maintenance and repairs when these are within normal parameters; rubbish collection; water supply; playgrounds; swimming pools, gardens and terraces; electricity supply; community fees.
> Properties must be maintained in perfect habitable conditions and must have all the services listed in the documents provided to the regional government available to clients.
> Properties will have connected utilities and will be clean and well kept for the arrival of guests.
> Guests have the responsibility to respect the property itself and communal areas and to leave these in the same state as that which they were in when they arrived.
> Advertisements of the property will be done in a way which meets standards for objectivity, good faith and honesty.
> Tourist rental management companies must include the number which they have been assigned by the regional government in all their advertisements for properties located in the region.
> An authorization document must be signed between the owner of a property and the tourist rental management company where there is such an agreement. This document will clearly state that the responsibility for compliance with Decree 92/2009 has been handed to the management company and that any lack of compliance will impact solely on the company and not the owner.
How to register your property
It should be possible to register properties in any governmental office in the Valencian Community but it is best to go to one of the three head provincial offices.
The address of the Alicante (Costa Blanca) office is the following:
SERVICIO TERRITORIAL DE TURISMO DE ALICANTE
Calle Churruca, 29, planta 3ª. 03003-ALICANTE
Teléfono: 96 5935467 y Fax: 965 934 889
Postal applications are also accepted. The completed application form must be sent from a post office to your nearest provincial Territorial Tourism Services office.
Main image: Artist's impression of a property in Campoamor on the Costa Blanca, Valencian Community ©Patrimi Resorts S.L.